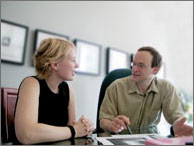 Organizational Development and Consultation
Enhanced performance is an essential goal for organizations with today's revenue and marketplace challenges. Developing teams that are self directed and high performing can be key to successful management. Lee Bruder Associates has the ability to provide specific management training and consultation services to profit and nonprofit organizations. We work effectively with both boards and management groups to address specific issues and to achieve new levels of development.

Lee Bruder Associates is well equipped to respond to organizational development needs. Examples include:
Leadership Development
Building Coalitions, Engaging in Collaboration
Succession Planning
Clarifying Roles and Responsibilities
Delegation: Art or Science?
Conflict Resolution
Effective Organizational Communication
Management Groups and High Performing Teams
Use of Coaching in Supervision
Strategic Planning and Outcome Data
Change Management
Relationships in the Workplace
Performance Problems and Annual Evaluations
Management Information Systems
Technology Strategic Planning
Healthcare Data Analysis
---
Boards of Directors
With 15 years of experience as a Director and Officer on various nonprofit boards, we have gained first hand appreciation for the challenges boards face. Motivating and educating directors so that everyone participates in the work of the Board is key to success.

As with any group, Boards have developmental stages. Certain aspects of each phase are critical to the successful development of the Board and, therefore, the organization. Each stage is important and to pass through the stage successfully the group must discuss it's strengths and challenges relative to its current phase. The group must develop a plan of action and implement that plan with specific action steps.

Lee Bruder Associates will help your Board understand your current developmental phase and how to grow to the next step of efficiency and effectiveness.

Examples of the Board Development services we offer include:
Revisiting Vision, Mission, Purpose and Goals
Strategic Planning
Developing New Member Orientation Procedures
Leadership Development
Board / Executive Director Role Interface
Board Responsibilities and Structure
Community Impact
Learn more about Board Development
---
Management Team Development
Senior Management teams are essential to the successful functioning of any organization. A management group can function as a collection of individuals or it can function as a high performing team. All too often companies and organizations decide that the collection-of-individuals approach is good enough. Larger, multinational corporations have for many years experienced the importance of developing the team approach among their senior and middle managers. There are stacks of books on the subject yet the sage advice and techniques therein go untapped by many organizations. Managers feel too busy to engage in a new initiative. They become nervous about devoting the resources of time and dollars to developing something that already seems good enough. However, high performing teams have proven they save an organization time and money.
---
Organization Wide
In today's marketplace, organizations must have certain resources and abilities to survive and a different set of resources and abilities to thrive. A thriving organization has the agility to respond rapidly to changes in funding or the marketplace. It has well developed, high performing teams and all employees have a clear understanding and appreciation for the the vision and mission of their organization. As a result, they understand why executive management makes certain decisions and have a sense of commitment to the organization and its products and services.

The two most important indicators of well-managed organization wide change are:
Will it have the intended impact, and
Will it last?
It is rare that meaningful, well-managed whole organization change is negotiated without assistance from outside the organization. Executive teams need assistance in focusing on the right tasks at the right time to have the greatest impact in the shortest amount of time.

Lee Bruder Associates offers a team of professionals that can help assess the internal climate for change, design strategies and assist in implementing specific actions.