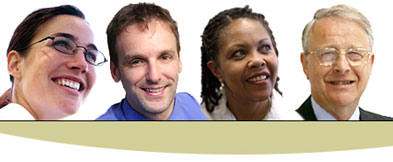 Professional development and leadership development programs include individual coaching, team building, and organizational development.
People in positions of leadership aren't necessarily good leaders. Each of us has examples we can cite. Politics and religion, as all professions, give us many examples of both exemplary leaders and very poor leaders. We used to think good leadership was genetic: only certain, gifted people were born to lead. Now we know leadership development is not only possible, but extremely important.
Studies reveal successful leaders of every type posess certain qualities and abilities in common. These qualities guide a leader's behavior in two key areas. First, the ways in which one thinks and acts toward oneself. Second, how one interacts in various work and social environments. We learn about these qualities from reading any number of books, but we cannot learn the art of leadership just by reading. Learning that lasts involves application and feedback.
As a result, more and more people use coaches for leadership development that they can apply to any aspect of their lives. For years for-profit organizations have used consultants to assist management teams and whole organizations manage change effectively. Now they also use coaches to work with teams and individuals to increase effectiveness and reduce costs.
Take the First Step: Personal Leadership Development
Whether or not you are a professional, a major step toward a satisfying life is learning and applying the principles of leadership. Do you:
Effectively deal with time demands?
Make time to plan ahead?
Have a personal statement that guides decisions?
Set goals and achieve them?
Celebrate successes?
If not, then learn more about our leadership and professional development programs and coaching services
Our expertise can help you reach your goals and live your dreams.